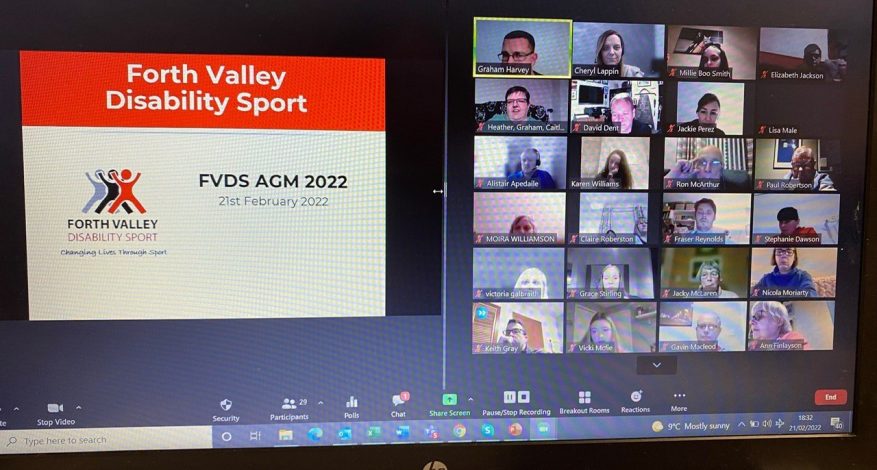 General
Forth Valley Disability Sport Awards Night 2021
Forth Valley Disability Sport AGM and Awards
Forth Valley Disability Sport held their AGM and Awards online over Zoom on Monday 21 February 2022. The purpose of the award ceremony is to reward and acknowledge the hard work and dedication of athletes, coaches and volunteers in 2021.

Graham Harvey FVDS Branch Coordinator and Cheryl Lappin Scottish Disability Sport Central Regional Manager presented the awards briefly highlighted each of the achievements of the award winners for the 11 categories of awards.
The evening was hailed a great success by coaches, athletes and volunteers alike.
Many thanks to our guest speaker Meggan Dawson Farrell GB Winter Paralympian and Grace Stirling FVDS Young Sports Panel Member for presenting the closing remark respectively.
Graham Harvey FVDS Branch Coordinator said " Congratulation to all the award winners for their commitment and hard work over the past year. Well done to all nominees who will receive certificates in recognition of their nomination"
Thank you to all participant, clubs, coaches, volunteers and partners for all your support over the last year. Forth Valley Disability Sport looks forward to welcoming you all to more face-to-face sessions and events through-out 2022. Thank you for your continued support it is greatly appreciated.
Please see award winners names below
Forth Valley Disability Sport AGM and Awards 2021
Award winners
• Lockdown Legends: Moira Williamson
• Coach of the Year: Stephen Tortolano
• Blair Forbes Junior Sports person of the year: Millie Boo Smith
• Newcomer Award: Keith Gray
• Senior Sports Person of the year: Meggan Dawson-Farrell
• Volunteer of the year: Iain Colquhoun
• GOGA participant of the year award: Jenna Stojanovic
• Achievement Award: David Dent MBE
• Triumph over adversity award: Ron McArthur
• Service to Sport Award David Lawrie Award: Jackie Perez
• Club of the Year Award: Forth Valley Flyers
If you or anyone else would like to know more information about Forth Valley Disability Sport volunteering opportunities and activities, please contact us by email: info@fvds.org.uk or Tel: 01786 466486