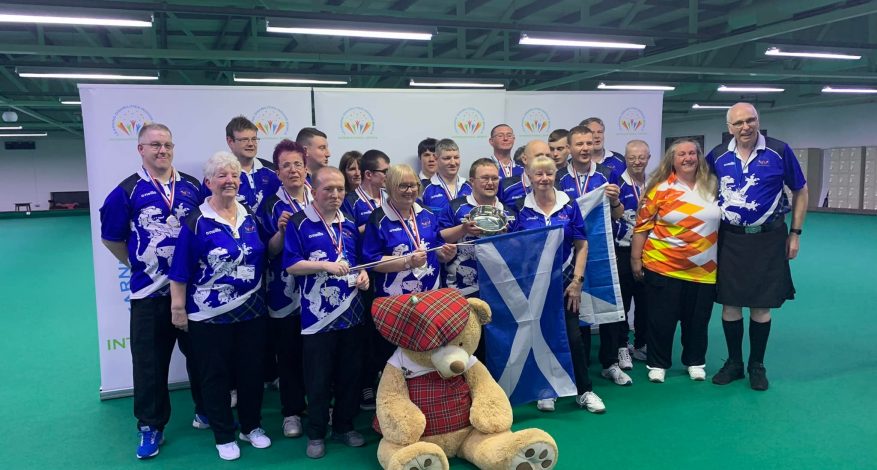 Bowls
Scotland storms to victory
Celebration and Friendships in Cardiff while Scotland storm through to take title!!!
The Learning Disability Indoor Bowls International Series Management team, athletes, coaches and volunteers descended on Cardiff this week. After the event being postponed, due to the covid 19 pandemic a total of three times, the LDIBIS event for the Munro Cup finally went ahead.

Athletes from Wales, Scotland and England arrived at Cardiff IBC for what was an amazing show of team work and prowess.
After the first two sessions on day one the home nation Wales led the way on points then defending champions England upped a gear and at the end of day one led Scotland by 5 points and Wales by 7.
Day two and Scotland focused on team effort and supporting each other across the rinks and some amazing performances from several of the Scottish athletes lifted the team. And it was Scotland the brave who stormed through to win the 2022 LDIBIS Munro Cup. Final scores: Scotland 35: England 22: Wales 15.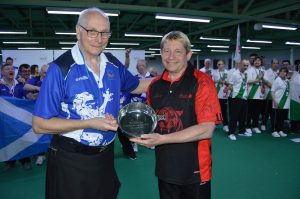 Ron MacArthur team Scotland's Head Coach said, "After Falkirk 2019 and Covid causing havoc to the World and our athletes it's been fabulous to get this all going again. One of the sad losses after Falkirk was fellow Scot Ian Munro (Deputy head LDIBIS Official and donator of the Munro Cup) and we would like to dedicate this win to Ian. I could not be happier, we performed as team and I am fortunate to have dedicated coaches who were able to draw the best out of the players at the right time. I'm so proud of the Scottish athletes but also all the athletes of all the countries. Here's to the next one."
We had a fantastic time in Wales, Cardiff a fantastic welcoming club for all the athletes, Volunteers and everyone involved.
World No6 Greg Harlow presented every athlete with a medal and every volunteer with a memento of the event. "It's an honour and privilege to be invited to attend and be involved in this amazing event. They are such talented athletes and Kay and I have seen so much improvement since we saw you all last time. I have thoroughly enjoyed my time here watching the play and experiencing the atmosphere. Long may it continue," said Greg.
On behalf of Team Scotland, can I thank all who have supported us over the years. It is greatly appreciated.
We look forward to defending our title next year at York IBC when England host the event.